It's almost unbelievable what has been cropping up in the last few weeks.  It's mind boggling and makes me wonder if we still live in the US of A anymore.  Just a couple of examples.
First up – Criminal Police Officers
This is a long, 17 minute video of an encounter a new CCW holder had with the Canton, Ohio police.  In the video, police pull up on a stopped car that's "suspicious" to them.  In the car is a white male driver and a black male in the back seat.  Outside is a young white woman whom a police officer declares is a prostitute. 
Watch in amazed disgust as I did as these cops easily violate their training on car stops, unlawfully search the back seat of the car, threaten the woman with a beating, handcuff and detain the black male for no apparent reason.  The worst comes after about six minutes. Ohio law requires you to notify police "promptly" that you're carrying.  Yet this officer hardly lets the driver say much before going ballistic when he can finally tell the cop he has a carry gun.
Warning – Graphic language!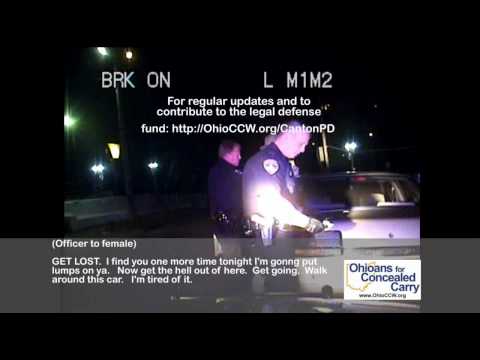 Feel free to post your comments below.  Easy on the profanity please.
Corruption and More Gunrunning!
To recap, early this year,
David Codrea
and
Mike Vanderboeh
broke the story of how ATF was letting guns "walk" into Mexico.  It focused on
Operation Fast and Furious
out of the Phoenix, Az, ATF office and up to 2,500 guns the ATF avoided interdicting before they reached Mexico's cartels.  A congressional investigation has been stonewalled for months by the DOJ, parent org for the ATF. Recently the acting director of the ATF told congress bluntly that
Eric Holder's
DOJ was
obstructing Congress
and refusing to allow others to cooperate.
If that wasn't bad enough, In early July word leaked out of another "fast and furious" operation possibly being run out of the Tampa, Florida office, sending guns to Honduras in Central America.  Why Honduras?  Honduras is a way-stop for cocaine on the way to Mexico and the USA.  Cartels are reportedly planning to bring in the raw cocaine at a cheaper cost per kilo, the process it themselves before shipping to the U.S.  That means higher profits for them by a factor of at least 3 times.  They need the guns to help set up local gang leaders as processors with their own "protected" turf. 
State Department Joins the Corruption Network
A new report from
Pajamas Media
says that
the State department has been selling guns, via the foreigh commercial sales program, to the Los Zetas cartel
.   The Zetas are
the
most ruthless cartel in Mexico.  Originally published in the
El Paso Times
, it appaears the Zetas formed a corporation and purchased guns "legally", then exported them to Mexico.
Before selling the guns, State needs documents that say the company is a legitimate concern. This usually requires permission from the host country to allow the company to purhcase arms.  If the company is in the U.S.A., export licenses to move arms to Mexico would be required along with Mexican documents allowing the company to sell guns to a government approved entity.  PJ media asks, How, then, did a drug cartel purchase weapons through this program when it is neither an international organization nor a government?
Good question.  Could this be some kind of Robert Ludlum-esque plot to supply arms to both sides, then let them kill each other?  Given that warped sense of morality, one would wonder where the CIA fits in.